Scope of Service
Dennis founded NAI Sioux Falls in June of 1999 and has over 30 years experience in the Sioux Falls commercial real estate market. He sold the company in November of 2015 to fellow broker, Troy Fawcett, and remains a very active member of the NAI Sioux Falls team. Dennis has completed over 1,000 commercial real estate transactions and is widely regarded as one of the most professional and knowledgeable brokers in the market. Prior to entering commercial real estate, Dennis worked three years for The South Dakota Governor's Office of Economic Development.
Dennis has experience selling and leasing all types of commercial properties including:
Office
Retail
Industrial/Warehouse
Multi-family
Commercial, Industrial, and Multi-family Land
Investment
Education & Professional Experience
Dennis received a BS degree in Business Administration and an MBA from the University of South Dakota. Prior to working in the commercial real estate industry, Dennis worked three years for the South Dakota Governors Office of Economic Development as an Industrial Development Representative where he recruited 13 new companies to do business in South Dakota. Those companies employed over 2,500 South Dakotans.
Dennis has received the CCIM designation, or Certified Commercial Investment Member . Fewer than 4% of the estimated 125,000 commercial real estate brokers in North America hold the CCIM designation.
Dennis also has been accepted into the prestigious Society of Industrial and Office Realtors, the leading professional commercial and industrial real estate association. With over 2000 members in 350 cities worldwide, the Society represents the country's most knowledgeable, experienced, and successful commercial brokerage specialists. The Society certifies its members with the SIOR designation, a professional symbol of the highest level of knowledge, production, and ethics. Real estate professionals who hold the designation are recognized as the most experienced and capable practitioners in any market.
Past Notable Transactions
Industrial Sales
Broadwind Industries, $12,300,000, 143,000 SF
Arnold & Madeline, $5,420,000, 156,000 SF
Dakotaland Autoglass, $4,500,000, 112,000 SF
Brzmur Enterprises $2,400,000, 54,728 SF
Amesbury Door Hardware, $1,807,500, 54,000 SF
Industrial Leases:
Park II Business Center to Daktronics, 5 years, 140,122 SF
Park II Business Center to Amesbury Door Hardware, 10 years, 111,000 SF
Pederson Construction to US Auto, 5 years, 60,000 SF
Pederson Construction to Carrier Enterprises, 5 years, 30,405 SF
MWI Building to Marco, 10 years, 23,500 SF
Office Sales:
First Dakota National Bank to Zander Group, $15,500,000, 65,129 SF
Myhre Holdings to CR Lloyd & Associates, $4,300,000, 31,200 SF
Former Metavante to TCF Bank, $3,600,000, 43,000 SF
Bankfirst to Dakotacare, $3,500,000, 40,000 SF
Sioux Falls Corporate Center IV, $3,259,000, 44,500 SF
The 300 Building, $2,935,000, 79,964 SF
Evergreen Condos, Six Buildings, $1,600,000
Office Leases:
Inland to Capital One, 5 years, 158,000 SF
Inland Group to Sanford Health, 158,000 SF
SFC Holdings II, LLC to Avera, 56,131 SF
SF Corp Ctr Holdings to ReliaMax, 3 years, 15,000 SF
First Dakota National Bank to Federal Bureau of Investigations (FBI), 10 years, 6,259 SF
Multi-Family Sales:
Murray Properties, LLC to Tzadik, $18,500,000
Keystone Apartments, 60 units, $3,005,000
Carmel Estates, $2,200,000
West Holiday Manor Apartments, $2,100,000
Heritage High Apartments, $2,000,000
Retail Sales:
DLC Holdings, LLC to South Dakota Military, $9,000,000, 69,470 SF
Southeast Properties to Vanderloo Legacy, LLC, $2,250,000, 45,656 SF
Dakota Plaza, $1,950,000, 12,200 SF
VanBuskirk Properties to Fawcett Boys, LLC, $1,200,000, 14,289 SF
Retail Leases:
Bare Assets Inc. to 1st Cash & Exchange, 5 years, 9,200 SF
Harold's Car Wash & Unique Decor to Party Land, Inc, 5 years, 5,710 SF
Carey Investments to Jabez Inc. dba Pita Pit, 10 years, 2,500 SF
Southeast Properties to CSE-Yankton, Inc., 10 years, 2,011 SF
Land Sales:
Sioux Falls Development Foundation to Amazon, $7,022,656
Sechser Family Ventures to Trademark Homes, $5,196,118
Sioux Falls Development Foundation to Scannell Properties, $4,671,435
Interstate Crossings to Reynolds Construction, $2,600,000
Flynn Heights to Peska Properties, $2,200,000
Hospitality Sales:
Kelly Midwest Ventures to Midwest Inn Inc., $4,200,000
First Dakota National Bank to Pramukhraj Huron, LLC, $2,500,000
Chopper, LLC/Boehnen Enterprises LLC to Stencil Group, $1,800,000
Partial Client List
Inland Diversified Real Estate Services
Daktronics
Amesbury Door Hardware
The Evangelical Lutheran Good Samaritan Society
Sanford Health
Crescent Electric
First Dakota National Bank
Ace Hardware/Kevin Nyberg
Avera St. Luke's Hospital
Avera McKennan
Legacy Electronics
TCF Bank
Cortrust Bank
Embrace Church
Sioux Empire Boys & Girls Club/Youth Enrichment Services
JDS Industries
Ronning Commercial, LLC
The Carroll Institute
Farm Credit Services of the Midlands
First Bank & Trust
DakotaCare
Vern Eide
Professional Affiliations & Designations
Licensed Broker in the state of South Dakota
Commercial Investment Real Estate Institute (CCIM)
Society of Industrial and Office Realtors (SIOR)
What People Are Saying about Dennis Breske, CCIM, SIOR, MBA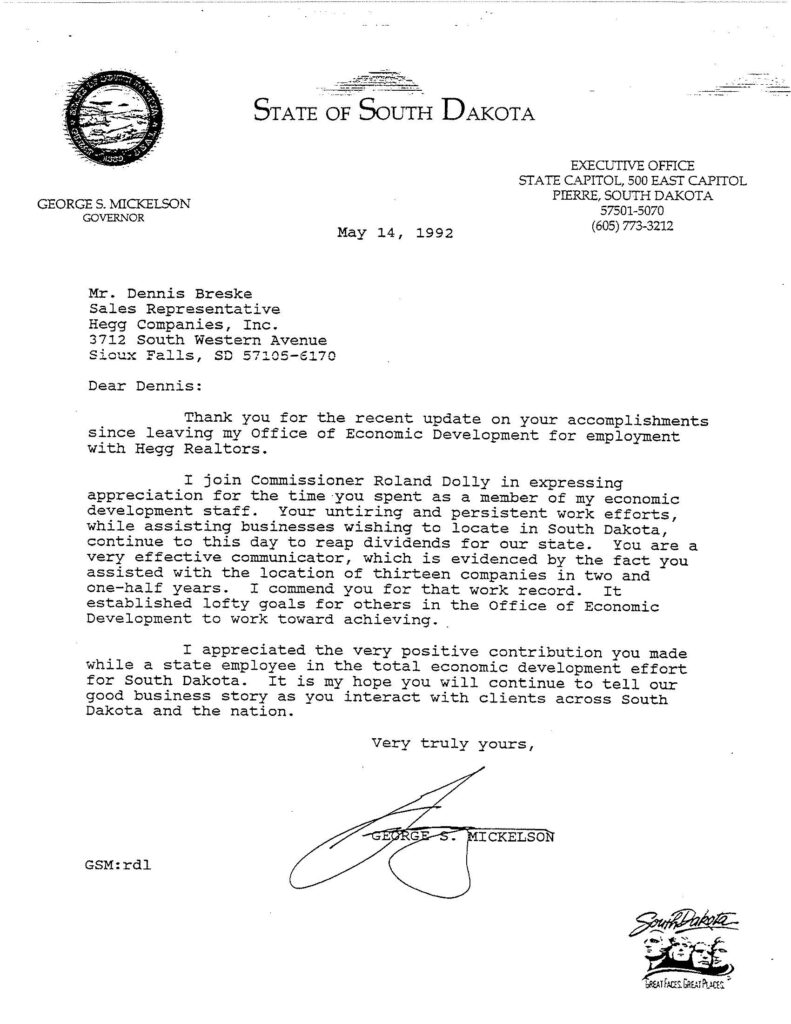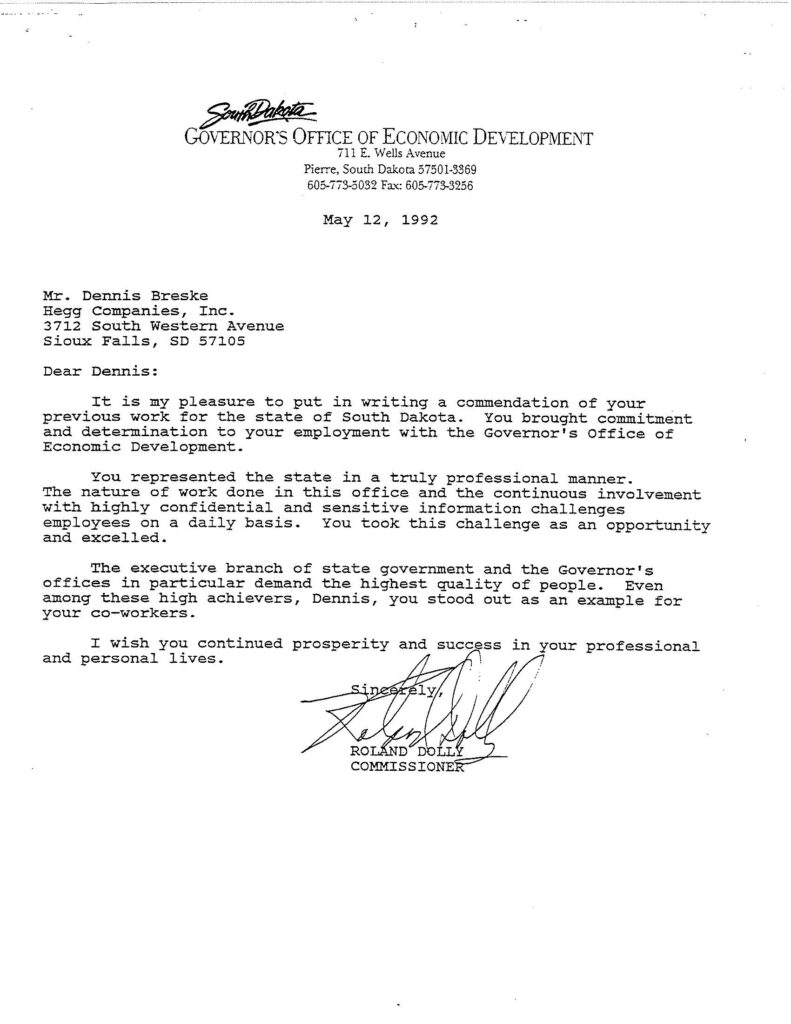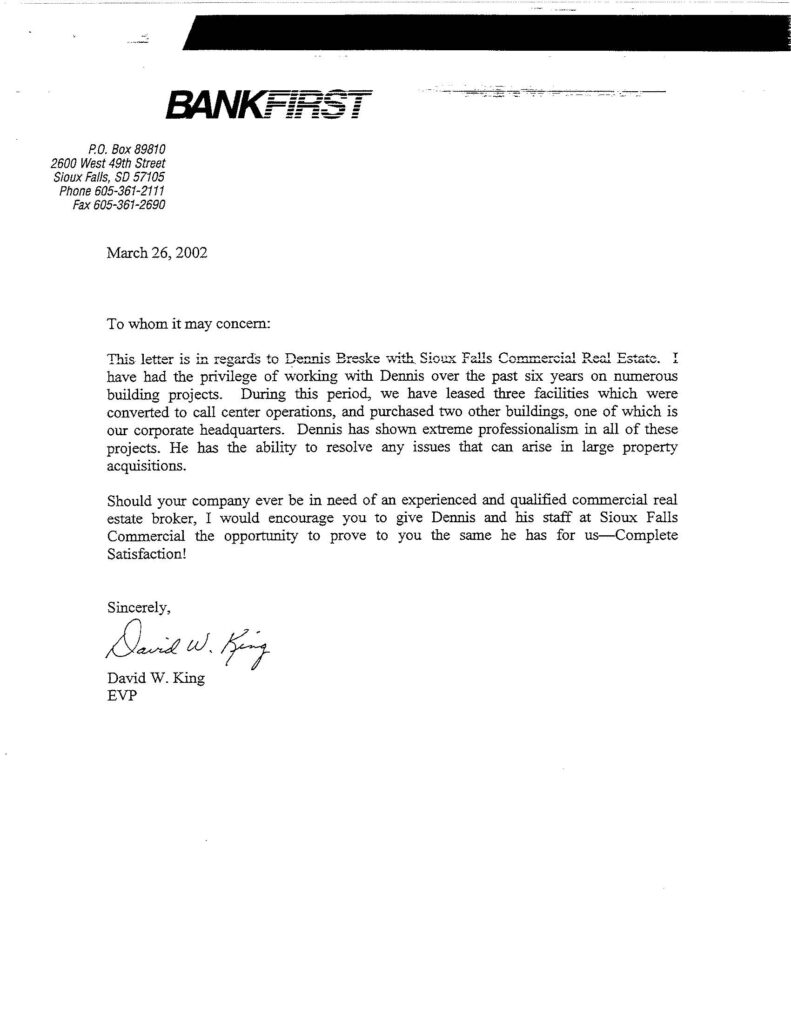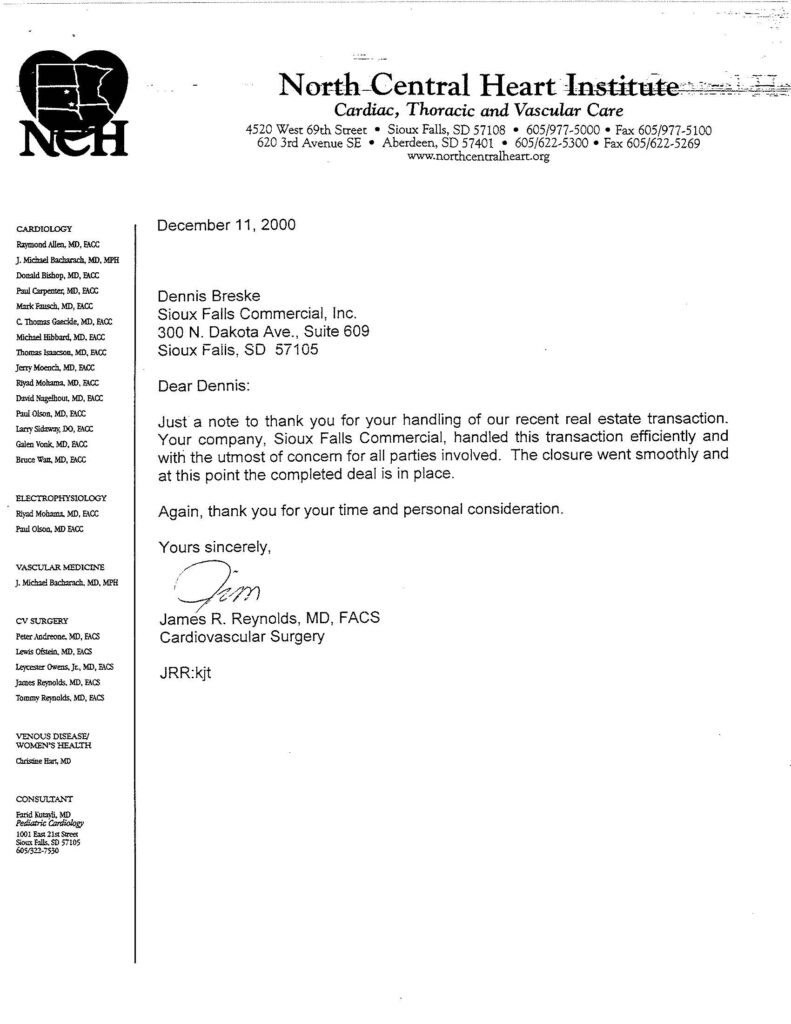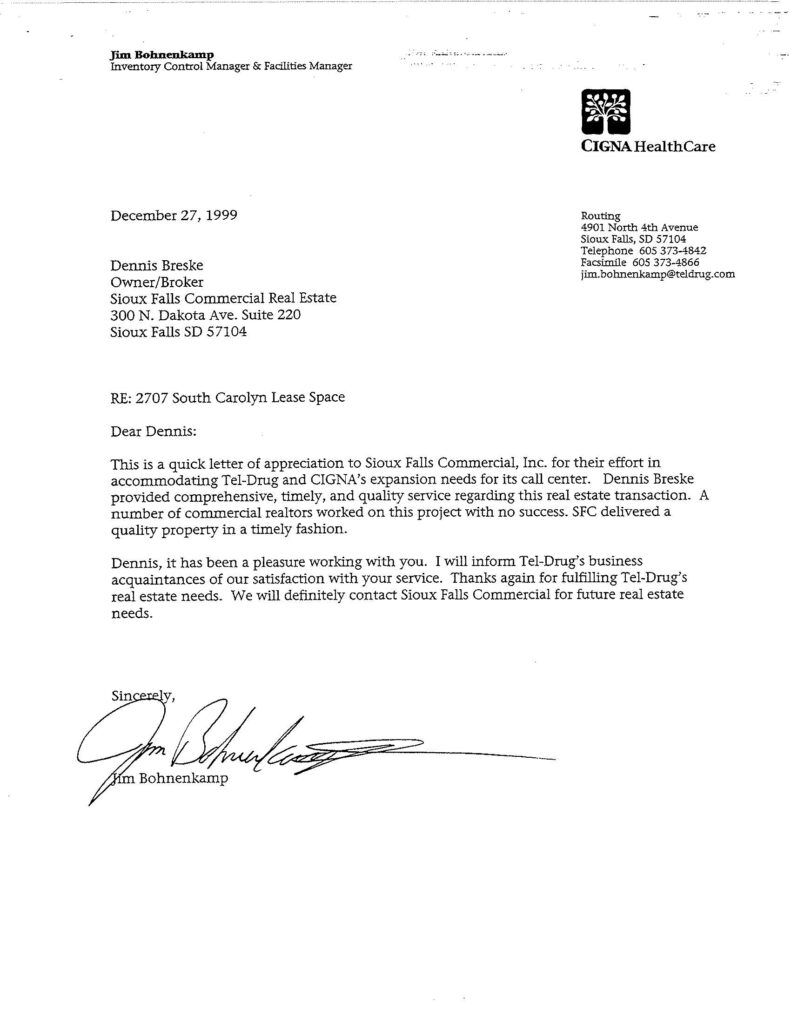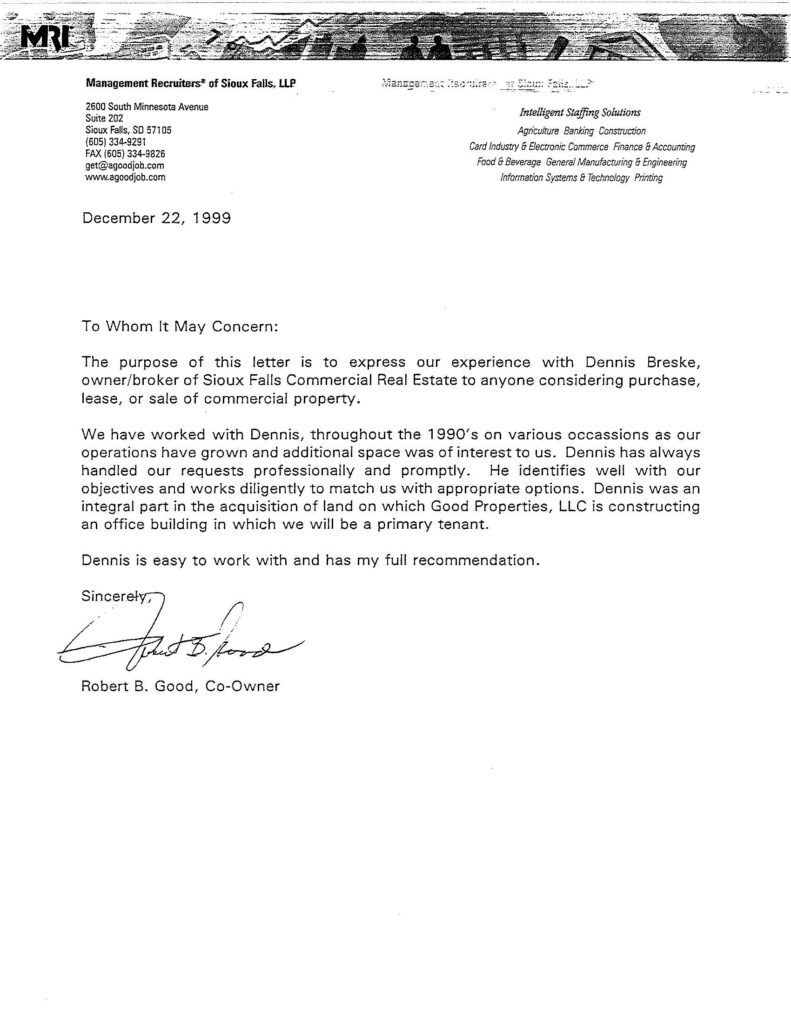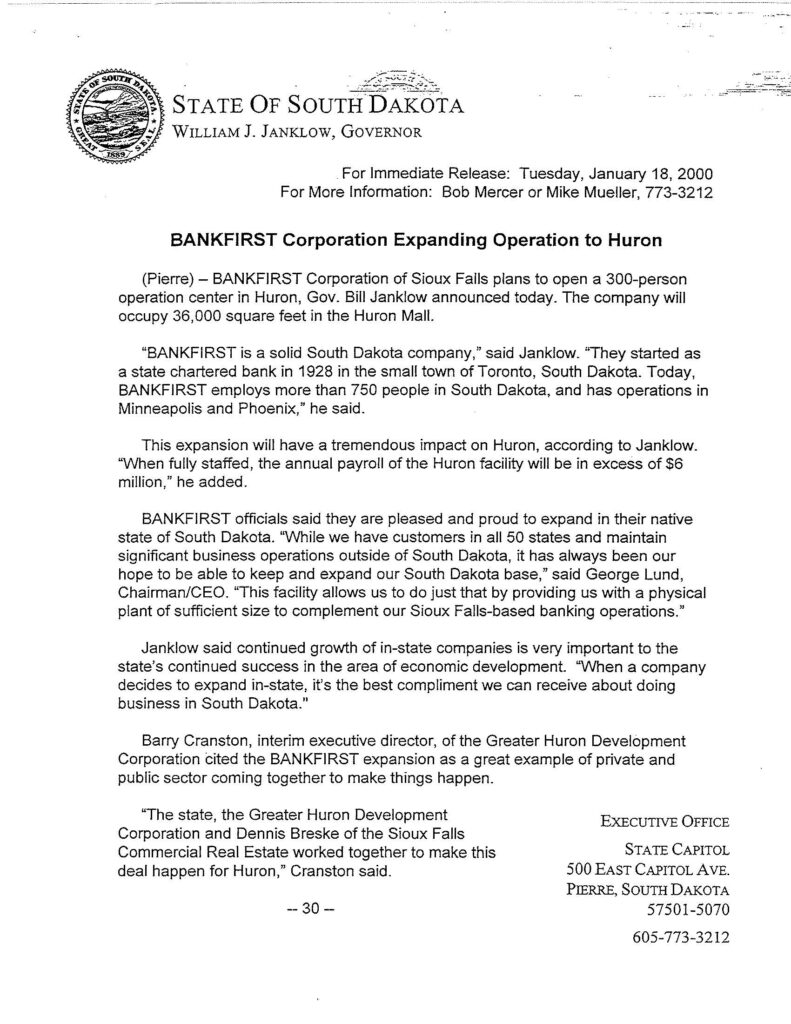 "Dennis Breske of NAI Sioux Falls…could not have been a more reliable and dependable professional representative for us. We recommend his services most highly!"
Richard J. Ellenbecker, DDS
Private Practice
---
"NAI Sioux Falls has done a great job managing my Sioux Falls office properties for the past several years. Their team is responsive and knowledgeable, and most importantly, thinks like owners. They know what to do and who to call whenever a problem comes up, and using their vendor network has produced real savings in maintenance and overhead costs."
Ronald K. Vaske
Lindquist & Vennum LLP